No matter what your business, data is your most valuable asset. Losing years' worth of accumulated customer information, financial records, in-house processes and procedures, accounting, sales, and marketing materials…etc. WOULD cause long-term damage to your company. Fact is, 60% of businesses are forced to close their doors outside of 6 months after catastrophic data loss.
Still, the most commonly practiced, onsite data backup isn't much of a solution at all these days. Not only is it subject to human error more often than most business technology components, it's also more easily corrupted or destroyed, and at greater risk of theft or compromise. So, how do we protect the critical data that keeps a business alive and ensure the processes we have in place will keep you protected and secure? The answer is cloud backup solutions. Not only is it the more reliable option available but the benefits far outweigh any "risk" or disadvantages.
The main purpose of backing up your data is the ability to roll back and access your archives in the event of local hardware failure. To do business today, you need the confidence of knowing that in the case of catastrophe, your data will be protected and available. By backing up your information in the cloud, you have the perfect destination for your archives. Your files will be at once everywhere; no longer dependent on any single computer or server.
The cloud is also remarkably affordable. It has the advantage of requiring no physical location that you'll need to handle maintaining on your own. A competent IT provider will keep you connected and can manage your data remotely without too much hassle.
BENEFITS OF CLOUD-BASED BACKUPS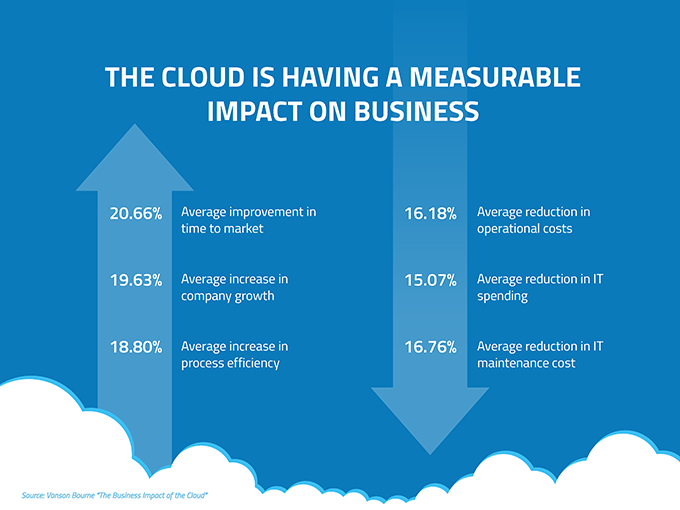 1) TIERED COST VALUE ALIGNMENT
You know those files from years ago that you never look at but hold onto just in case because that one document in a file from 2013 could be your saving grace? Yeah, we all do. Truth is a bulk of your data loses value over time, but it is a necessary evil. Thankfully, someone thought it makes sense that the resources invested in maintaining archives should diminish commensurately and came up with "backup lifecycle management." This allows you to align your data access needs with the costs involved since you're able to assign different accessibility statuses to different sections of your archives.
2) SAVINGS AND SCALABILITY
Maintaining low costs is a prominent goal for any business. One of the major benefits of cloud-based backups is that there are no upfront costs associated with increasing your storage and backup capacity as needed. The use of cloud services provides a low-cost, monthly fee solution for data protection and with decreasing cost per GB as volumes grow. Your company can scale up your capacity at a moment's notice and all at a predictable cost structure, this can be more economical in the long term, which ultimately helps your company reduce costs.
3) UTILIZES EXISTING INFRASTRUCTURE
Cloud-based backups seamlessly integrate with infrastructure that is already in place. No need to purchase new hardware, your existing computer network is all you need in terms of hardware.  Your backup and potential recovery is as simple as a download and doesn't require any expensive additional equipment. Once the backup is complete, it stores the encrypted files at an offsite data center. The entire process takes advantage of cloud technology without requiring any additional expenses. 
4) DATA SECURITY
Data security has to be a top priority for everyone in your organization and keeping your critical work files protected is an essential function. With cloud-based backups, 2 copies are transmitted, encrypted and stored in external data centers and off-site. Only authorized users are granted access to the data, greatly reducing the risk your business is exposed to.
5) RELIABILITY
Cloud data is stored on multiple disks, at multiple sites specially designed for security and durability of data. Data backup and recovery is a straightforward and speedy process, almost as fast as you can communicate with your provider can the task be completed. It's important to understand how much bandwidth is available to you though as this will impact the speed and the amount of data you are backing up; which should be measured too. With such high reliability, your employees will be able to focus on their work without worrying about accidentally deleting important files.
6) ELIMINATES TAPE AND AUTOMATED
Backups can now be scheduled or started manually and can be performed at any time with a single click, changing the way businesses protect themselves. Both cloud and tape backup can be an automated process-With tape backup, it relies on the actual tape for reliability, even the best backup plan is vulnerable to:
Theft/Loss- stored copies are vulnerable to all who access where it is stored and it can easily be misplaced or categorized
Damage- Susceptible to any number of things from fires, floods, condensation/humidity…etc.
Expensive- The cost for tapes are not cheap and many are needed, also the time taken away from the employee required to do the backup
Poor tape quality- It happens quite frequently and only portions of data, if any, can be recovered
Cloud, on the other hand, can backup without disturbing the user and allows them to select how much or how little to restore and do it without engineers' help. Once your data is backed up in the cloud for the first time, you determine the settings you want for automated backup times, and all of your company's data is synced without you needing to do anything further. What this means for your company is having the ability to ensure data protection, reduce downtime and limit lost productivity. Files can be recovered instantly and authorized users have remote access to it at all times.

KEEP YOUR BUSINESS GUARDED WITH THE BEST BACKUP SOLUTION
It's no secret that a company would struggle to survive if it lost all critical data necessary to operations. Even if your business survives such a loss, there are increasingly large financial implications associated with downtime as a result of data loss. Not to mention the hit your businesses reputation would take. While this makes a clear case for the benefits of cloud, the best choice depends on your situation – you may even need hybrid cloud: a mix of the two. If you would like more information and to speak with the experts to find out what is best for your business, contact CCSI today to discover how we can help your organization take advantage of cloud-based technology solutions.