What is Synology NAS?
NAS (Network Attached Storage) is a data storage device that connects to your home or office network and allows multiple people to easily store, share, and protect files and other data. By integrating hardware and software, Synology NAS delivers a fine tuned, hassle free performance. Extensive compatibility with hard drives and peripheral devices, such as network cameras, routers, or DLNA devices, allows for easy integration into your environment. Synology NAS is designed with security, redundancy and easy maintenance in mind. Homes and business can take advantage of solutions of all sizes, ranging from single driver server to rackmount models that are expandable over one petabyte.
In the past it was quite an easy decision for an expanding business deploy a windows server, but with the advancement of Network Attached Storage devices the decision is no longer clear cut. These devices now contain very sophisticated operating systems of their own. Not only can you share data but you can install apps. These apps provide you with increased functionality. For example, you can use your Synology device as a DVR base station for your security system. You can also install apps on your mobile devices that will allow you to access your data from anywhere. Synology devices can host VPN connections, websites and much more. With all this functionality and a cost that's much less expensive than a traditional server.
Synology lets you consolidate multiple services onto a single device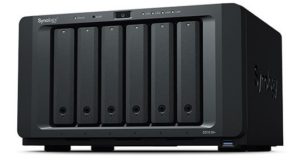  Use the NAS for your video surveillance
 Store, organize, and stream your photos, movies, and TV shows
 Run your website from the NAS and use database software like MariaDB
 Virtualization and lab use test out VMs and run Docker containers then scale up for business
 Connect other devices on a VPN running on the NAS
 Deploy your own LDAP and single-sign on services via our applications
Synology has security features that protect your business with encryption/HIPAA compliance
 VPN support-Connect to or act as the VPN server
 Secure protocols –HTTPS, SFTP/FTPS, SSH
 Built-in customizable firewall
 Set custom ports for all applications
 Security Advisor Tool –Audit NAS security
 Two-Factor Authentication [one-time code]
Synology NAS devices are becoming more powerful, small businesses are seeing the benefits of utilizing Synology NAS devices. Customized Computer Services, Inc (CCSI) has helped many of our clients implement Synology for their business. For more information on how Synology can benefit your business contact us at (817) 459-4000.