As time goes by technology becomes slow and vulnerable to cyberattacks which require companies like Microsoft to develop new software and use better functioning hardware, this requires the old technology to be replaced so attention can be focused on new technology. January 14, 2020 is the date to keep in mind if you are running Microsoft Windows 2008 server, because it will be the end of life for it, there will no longer be any support for the server going forward.
What does this mean for anyone with a Microsoft Windows 2008 Server? For starter it may be a very good idea to plan ahead and start thinking about implementing a newer server as soon as possible. You don't want to ignore the end of life of the 2008 server. It will no longer have support and there will no longer be any updates all this will leave your organization vulnerable to cyberattacks.
Once support ends there will be no Hot Fix Agreement Option. Support for your 2008 server ended on July 9, 2013, while extended support was still available through January 15, 2015, once that ended you have had the Hot Fix Support available to you if anything happened to your server. Those Hot Fixes came at an expensive price to keep the 2008 server going with updates. That will come to an end and Hot Fixes will no longer be available. This will leave you with no security patches and if something should happen to your server. You are basically at this point on your own looking for solutions.
The Windows 2008 server will face security threats that it may not be able to deal with, it is a major issue to look out for. There may be other pitfall that the Windows 2008 server will face. As servers progress and become more and more advanced with time new software is created to meet the needs of the newest servers that make their way into the market. With that said eventually the Windows 2008 server will become incompatible with the newest and greatest software that becomes available.
There are many industries that require servers to meet compliance for instance HIPPA compliance and PCI. It is safe to say that if you need to maintain compliance then there is no choice but to move to the newer server. If there is no support and security patches that will leave the data vulnerable and the fines associated with not meeting compliance simply outweigh the cost of a new server. If you are in an industry where compliance has to be met than the Microsoft Windows 2008 server will be considered obsolete as of January 14, 2020.
You might think that keeping the Microsoft 2008 server will help you save money rather than buying a new server, on the contrary if you are running a Windows 2008 server and something goes down you will be paying for many hours of services. Each time the server goes down with no patches or updates there is no telling how much you'll end up paying in service cost to remediate the issues. Simply put you will end up paying more to keep the applications running on the windows 2008 server than to replace it.
With no updates, quick fixes or security patches you are going to face another hurdle and that is performance and reliability. You can be sure that with time performance will always get better with a newer server. The old will become slower in performance, applications will run slower with the lack of updates, hot fixes and patches. Reliability issues will crop up causing longer than anticipated down time, which eventually will reflect on operating costs.
Come January 14th 2020 are you willing to risk going forward with your Windows 2008 server?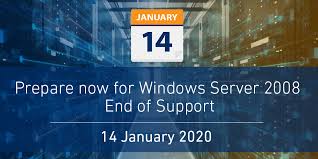 Customized Computer Services, Inc. (CCSI) is based in Arlington, TX and has been serving the Dallas-Fort Worth area for 30 years. We have helped many of clients migrate to new servers. Contact us and find out how we can help make your transition from a Microsoft Windows 2008 server to a new server a smooth experience.